News
THE IMPORTANCE OF FINDING YOUR RIGHT SUPPLIER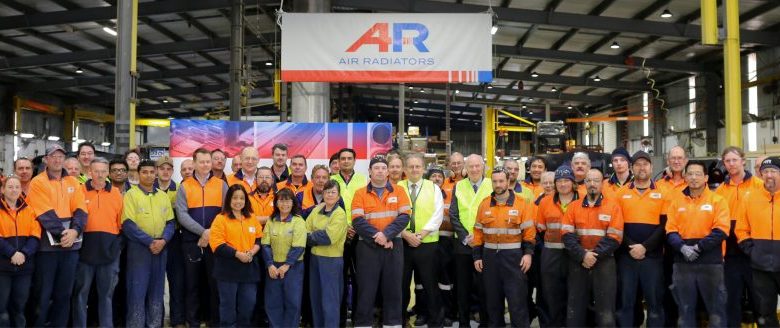 Finding the right supplier to suit your business requirements can be a tough task. Before making a choice, there are a lot of factors that a business needs to take under consideration like products & services offered, lead times, quality standards and pricing to name a few.
But why only go looking for a supplier when you can find a partnership? When looking for a heat exchanger solution, Air Radiators works in partnership with its customers to design and manufacture radiator package solutions that suit the requirement.
Air Radiators work on an end-to-end process to support their customers from defining the customer scope through to design, manufacture and testing of each product before final delivery.
Step 1: CUSTOMER SCOPE
What are your requirements and what is your problem?
One of the key business purposes of Air Radiators is "to offer high value, reliable and efficient heat transfer solutions engineered to meet our customers' exacting needs". Having been in a technical manufacturing environment for over 45 years,they understand the critical need of having the right people in place to handle the right job.
Whether it's the first customer interaction or resolving any after sale service queries, the team of trained and motivated professionals are always ready to help. When they are presented with a new business opportunity, one of the key account managers gets in touch with the customer to gain an in-depth understanding of the customer requirements and what is the problem that they are looking to solve. It is well understood that reliability and trust play a key role while establishing a new partnership. To help you build trust in its brand, the key account manager takes you through the entire journey of explaining who Air Radiators is, how they work and how they can best assist you in finding the right solution.
Step 2: APPLICATION
Solving the problem through application engineering
The highly experienced team of Application Engineers at Air Radiators possess in-depth knowledge and experience in servicing our industry to ensure that the right product is designed and manufactured to your specifications.The team has detailed knowledge of thermal engineering and what heat exchangers do. This knowledge is shared with the customer throughout the selection process, providing the best solution for the application – first time, every time. Air Radiators speaks the language of your industry.
Taking your design specification and your application knowledge, we develop each product as a fit-for-purpose solution, meeting thermal specification via in-house thermals program and industry standards – HTRI and KULI thermal design software and including design features that match the job at hand. Irrespective of the duty or application, Air Radiators have the background to optimize the product for you whether it's a complete packaged radiator solution, an oil cooler or an HVAC solution.
The Application Engineering team utilizes real world data to complete the designs on our engine cooling packages, analysing the thermal performance and appropriately selecting the best cooling technology for your machine. Above ground, underground, on or off shore, the cooling solution will draw on the latest and most appropriate technologies to provide flawless operation on the job.
Step 3: DESIGN & DEVELOPMENT
Creating a solution through mechanical engineering and product development
Air Radiators mechanically design every new oil cooler or radiator package using 3D CAD software (SolidWorks).The significant advantage of this is in understanding precisely how each component will fit or interact with any other component – critical in complex 3D assemblies.This approach generates a large amount of metadata associated with the product and parts (for example, material grade and gauge, finish and paint spec, purchased part or manufactured, weight, COG, outline dimensions, and so on), which flows through the manufacturing and customer delivery ERP system.As part of the process, they supply a 3D model to customers for integration into their own designs. This resolves form and fit issues and ensures that customer interfaces are precisely defined for both parties. When the final product is delivered, there are no fitment surprises.
The innovative and well-equipped in-house R&D laboratory and team play a crucial role in developing solutions for our customers.Air Radiators extensively uses in-house Finite Element Analysis (FEA) and Computational Fluid Dynamics (CFD) capability. These tools (SolidWorks Simulation, CD-Adapco Star CCM+) enable the engineering team to simulate and predict the mechanical, thermal fluid flow responses of different geometry.
FEA is used to ensure that the structure is relatively well optimized for cost, weight and performance for any new design. The capability also plays a key role in assisting our customers to solve problems or failures in service.
CFD is necessary to determine the pressure drop and flow paths through complex geometry – especially on the airside of the heat exchanger where good airflow through core matrices is critical to overall performance. CFD is also used to predict the heat transfer characteristics of the small repeated geometry features that make up a heat exchanger core matrix, particularly useful in applying existing products in new or challenging environments.
In today's economic climate the design practices of the past cast a significant cost shadow. Air Radiators has invested significantly in our team's capability in value engineering and optimizing engine cooler and complete solution designs for cost, manufacture, operation and serviceability. This manifests itself in smart products developed by Air Radiators and the ability to take cost out of other manufacturers' products in existing applications.
Step 4: MANUFACTURE
Fabrication, core making and assembling the products
Air Radiators' in-house fabrication capacity enables them to produce complex products with a high degree of quality control in short lead times as part of our solution offering. They can reliably produce customized products in low volumes while meeting all necessary compliance requirements for their customers including materials specifications, dimensional specifications and traceability.
The fabrication workshop offers significant capability in cutting, punching, folding and welding using the latest equipment and machinery to produce parts. The team has the capability for pressure code welding to ASME and AS1210 standards.
Air Radiators and their parent company Adrad have perfected the copper brass core manufacturing process during the 90 plus years of our group's manufacturing history.The manufacturing of cores is as unique as the applications that our products protect. They draw on all of the manufacturing facilities to ensure the best solution is produced for your application.From high performance automotive cores, to cores suitable for the harshest industrial applications, the various plants can produce the best-fit components. Although diverse in range, each of our products shares common traits: quality materials, quality machines and quality process.
The manufacturing capabilities across our plants in Victoria, South Australia and Thailand utilize a wide range of manufacturing techniques that enable the flexibility to work with aluminium, steel and stainless steel in the development of specialized heat transfer products and oil cooler packages for our customers around the globe.
Step 5: TEST & VALIDATE
Testing the product to ensure it meets the customer scope and provides the solution
The specialised and experienced team have the skills and capability to offer an end to end service experience.From testing of your plant and equipment to understanding the performance and upgrade paths available for your equipment, through to the installation and commissioning of the industrial cooling system, Air Radiators offer a 'know how' offered by few others.
Data logging and other non-destructive testing methods ensure that the team can unlock the mysteries of the performance of your existing system. Analysis of this data allows diagnosis, modification and redesign as required to be made.
Correct installation of the product offers long life and best performance. Who can provide better guidance on installation and commissioning the equipment other than those that designed and built the unit. The support team of Installation, Commissioning and Service Engineers have experience in assisting their customers with proper installation and optimizing the product that they manufacture all around the world.
Step 6: SERVICE
Committed to our customers, offering comprehensive sales support system and service centre
Air Radiators is a team committed to the design and delivery of innovative heat transfer solutions and air movement solutions in partnership with our customers.
Their commitment to customers is under-pinned by a comprehensive after sales support system which offers:
An extensive range, and continued supply, of OE replacement parts for their products
Technical assistance from their skilled team on application, installation and maintenance
Field service support provides specific advice with regard to service, maintenance and the operation of Air Radiators products.