Travel
The Best Things To See & Do In Krabi, Thailand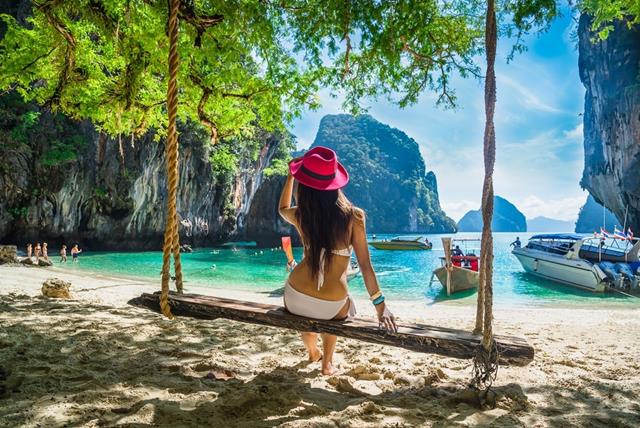 Krabi is one of the most beautiful parts of Thailand that is also popular with tourists, and there is plenty of things to see and do when you stay there. Ao Nang is a small town on the coast which is centrally located and is an excellent place to base yourself, whether you are looking for a fun-fuelled trip, or you are after something a little more relaxing. Below are some of the best attractions and excursions on offer that will ensure that you have a memorable trip.
A Trip To The Islands
Most of the Ao Nang hotels Krabi will either be able to book a tour of the local islands for you arrange a private charter of a boat, or let you know of the best local tour company to use. There are many beautiful islands that you can explore off the coast of Krabi, including:
Koh Phi Phi Don
Koh Lanta
Koh Poda
Koh Kai
Koh Ping Khan (James Bond Island)
Visit The Tiger Cave
The tiger cave is commonly known as Wat Tham Sua, and it is a famous cave complex which also houses a temple. There are many caves that you can walk through and explore and enjoy the lush jungle views that are outside. You can also see what looks like tiger paw prints in the rock of one of the caves or climb up the 1,272 steps to see the footprint of Buddha on top of the limestone tower.
Thung Teao Forest Natural Park
You can also enjoy a visit to Thung Teao Forest Natural Park, which offers tranquil scenery and picture-perfect blue waters that will be perfect for posting on your Instagram account. The surrounding area is a low-land forest that is abundant with biodiversity, and you can also enjoy visiting the famous Emerald Pool, which offers beautiful views of the crystal-clear waters.
Klong Thom Hot Springs
Klong Thom Hot Springs are about an hour drive from Ao Nang, but they are worth the visit. The thermal springs are left over from ancient volcanic activity, and they are surrounded by lush green forest. The thermal waters are said to have therapeutic properties, making them a popular attraction with Thai visitors. You can relax in the waters and even sit under a small waterfall, which will help to wash away any stress and aches that you may have.
These are a few of the activities that are on offer when you visit Krabi, but there are plenty more besides these. If you want more information on the many activities available for tourists visiting Krabi, then please click here.