Home
Outdoor Wall Lighting Ideas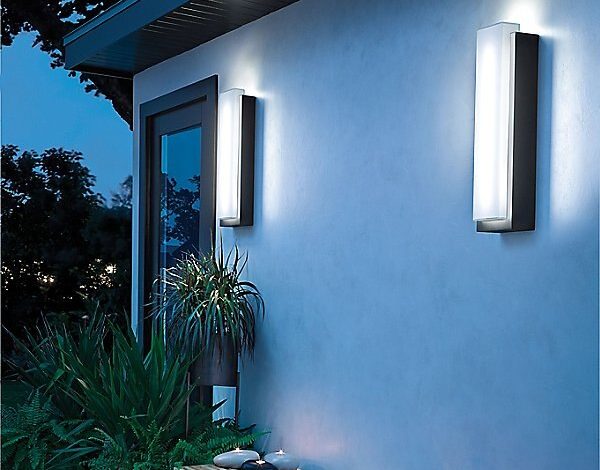 While designing the home, people only focus on the interiors. This should not be the case as the home exteriors are crucial as well. For instance, you can spend some quality time in a well-designed garden with your friends or family during the evening. One of the most important parts of exterior design is lighting. Your exterior wall lighting decor can make or break the space. Hence, you must very carefully plan the lighting so that the right ambiance can be created and all the key features in your garden get highlighted.
One of the first things you need to keep in mind while choosing the lighting decor is that the lighting fixtures are matching the home design idea. They should not appear out of place after installation. There are lots of wall lights available in the market. You can choose any option depending on the home design and your preferences. If you are not sure about which outdoor wall lighting will be best for your home, here are a few ideas you can take inspiration from:
01 of 05 Opt for subtle spotlights
When choosing the lighting decor for your outdoor wall, you do not have to go for something extravagant. Sometimes, something simple and minimalist will work as well. Many people love installing spotlights for wall lighting because they light up the space perfectly and create a very soothing atmosphere. You can install them in your garden near the sitting area. Make sure you choose the right number of lights. If you perform any activity like eating a meal, adequate lighting is necessary. Install them alongside the outdoor dining area at equal distances.
02 of 05 Invoke fun into the space with festoon lighting
One of the most popular choices for outdoor lighting is festoon lighting. There are plenty of factors that make it a better choice than others for many people. To begin with, many people do not like to go through a difficult installation process after purchasing lighting fixtures. Since they are easy to set up, you do not have to worry about installing them.  Also, they appear very appealing even when the lights are switched off. Although these lights are mostly strung on trees, you can consider hanging them along a fence or wall. They will make the space appear appealing irrespective of whether you set them up in your garden area or sitting space. For added aesthetic beauty, give the background a bold colour. Any deep colour will work for this purpose.
03 of 05 Pay attention to your front door
The first impression you create is very important. Hence, you must not focus only on the garden and sitting area in your home. The front door is very crucial as well. If the entrance appears dark and shady, your guests will not feel welcome. Also, there are chances of accidentally tripping on the staircase if the area is not clearly visible. You may find difficulty in finding the right key as well. By installing light near the front door, you can light up the space perfectly and avoid all these problems. Moreover, you can add more visual interest to the space. Traditionally, two identical lights were installed on either side of the door for a symmetrical look. However, just one will work also as asymmetry is very common in contemporary spaces. Enhance the beauty of the space by placing a few potted plants by the door.
04 of 05 Choose a great lampshade
Lampshades are an essential part of table lamps. They hugely influence the overall look of the table lamp. By choosing the right lamp shade, you can make the interiors more appealing. However, lamp shades are not meant for interiors only. You can use them for your exterior lighting fixtures as well. There are many weatherproof lamp shades available in different sizes and designs. Although there are no strict rules that you need to follow while choosing the lamp shades, make sure that they match the design of your home exteriors. Commonly, natural materials like wood and raffia are chosen by homeowners for this purpose.
05 of 05 Create a seamless flow for the interior and exterior
When lighting up the space, you must keep in mind that the exteriors and interiors should not appear separated. It is very crucial to maintain a seamless flow to make the spaces connected. Wall lights play the most important role in this process. The continuous path of light perfectly connects both spaces while enhancing the aesthetic beauty of the space. People will be able to see their steps clearly while walking. Experts suggest opting for designs that reflect your home design idea so that areas feel more unified.