Travel
18 Beautiful Train Journeys in India in 2022 That Are Worth a Ride!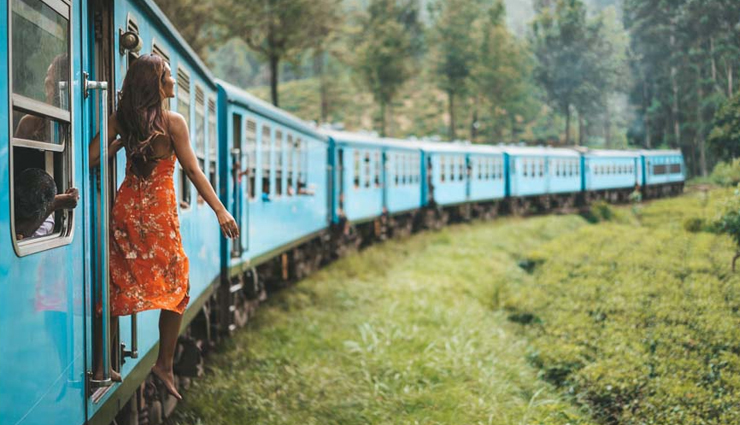 Railways in India are many things. With their grand stations, history, and evocative destinations, they can evoke a timelessness among travelers that is absent from the uniform experience of flying.
Whether it is a scenic train ride between destinations or a luxury journey across a country, here are the top 10 Indian rail trips every traveler should experience (at least once):
Bangalore to Goa
Operated by the Indian Railways subsidiary IRCTC and Karnataka, The Golden Chariot, one of India's opulent trains, combines the country's southern heritage with modern luxuries. This train will take you on a seven-day journey via popular tourist destinations like Mysore, Hampi, and Goa. So, if you're unsure where to spend your money, we recommend booking a ticket for this train on a railway ticket booking app.
Kalka to Shimla
Going through 102 tunnels and 82 bridges, this mesmerizing train journey captures the spirit of all travelers to Shimla. This Kalka-Shimla pathway on the Himalayas is a must for those seeking adventure and thrill amidst the snow-capped mountains.
Mumbai to Goa
This train journey, which passes through the Sahyadri mountain ranges, the coastal peripheries, tunnels, and bridges is one of the most beautiful train rides. This is not all. The rail route also covers the steps of the Western Ghats, small rivers, and lush green plains.
Delhi to Mumbai
Hop on to the luxurious Maharajas Express that will take you through five different states – Rajasthan, Uttar Pradesh, Gujarat, Maharashtra, and Madhya Pradesh. This exquisite train journey is a vacation in itself. The 6 Nights and 7 Days journey will provide you with the best of everything right from food to the hottest destinations.
Jalpaiguri to Darjeeling
From Jalpaiguri in West Bengal, this 78 km track takes you through some striking beauties. So, it is known as the most popular track in the country. Another reason why it is famous is that movies like Barfi and Parineeta were shot here. It is fact, the best possible way to observe, discover and enjoy the everlasting beauty of Darjeeling.
Chennai to Rameswaram
Get onboard the Sethu Express to one of India's holiest places, Rameswaram. The journey starts from Chennai in Tamil Nadu to Rameswaram on Pamban Island and takes you through mainland Chennai, and over Palk Strait. It also runs parallel to a road bridge, which was built in the year 1988.
Jammu to Udhampur
The railway line that connects Jammu, Udhampur, Srinagar, and Baramulla is not only beautiful but also one of the world's most difficult railway projects. It is also India's most scenic railway route, with undulating and rocky scenery, and cold temperatures. So, we are sure that a train ride from Jammu to Baramulla will surely compel you to book a ticket on a train booking app right away.
Guwahati to Silchar
Guwahati to Silchar is the most magical train journey in northeast India. So, hop on to the Avadh Assam Express, which meanders its way through the lush green valleys of Assam and then moves within the tea plantation areas of the rolling Haflong valley. And the best part? The greenery and the cold weather will bring a sense of calm while traveling through this route.
Jodhpur to Jaisalmer
The journey is everything from monotonous. In fact, you get to see a typical desert environment surrounded by xerophytic vegetation, yellow dirt, dunes, grazing camels, and scattered desert towns. So, if you're looking forward to witnessing the beauty of a vast desert, here is your chance. Get onboard this journey to experience the desert in its best form.
Kanyakumari to Trivandrum
Starting from Kanyakumari to Trivandrum, this train ride is magical in many ways. This 2-hour journey is all about the beauty and rustic life of the locals. It's safe to say this train ride is one of the best journeys in south India.
Some of India's best locations can be witnessed only on these train routes. Of course, these train rides are iconic, historic, and definitely something you can write about. From the valley and mountains in the Himalayas to the lush forest of Western Ghats to sea bridges, it is a one-of-a-kind experience that leaves every traveler mesmerized by the end of their journey.